The SPORT Brake Kit for SPA Volvo
**NEW**
The SPORT 19 version kit is now available
, using the "T8" 366mm rotor, for those wanting a rotor upgrade in size and performance, better wheel spoke clearance, while using only 19" and larger wheels. Same low parts and service costs using an OEM Volvo rotor type.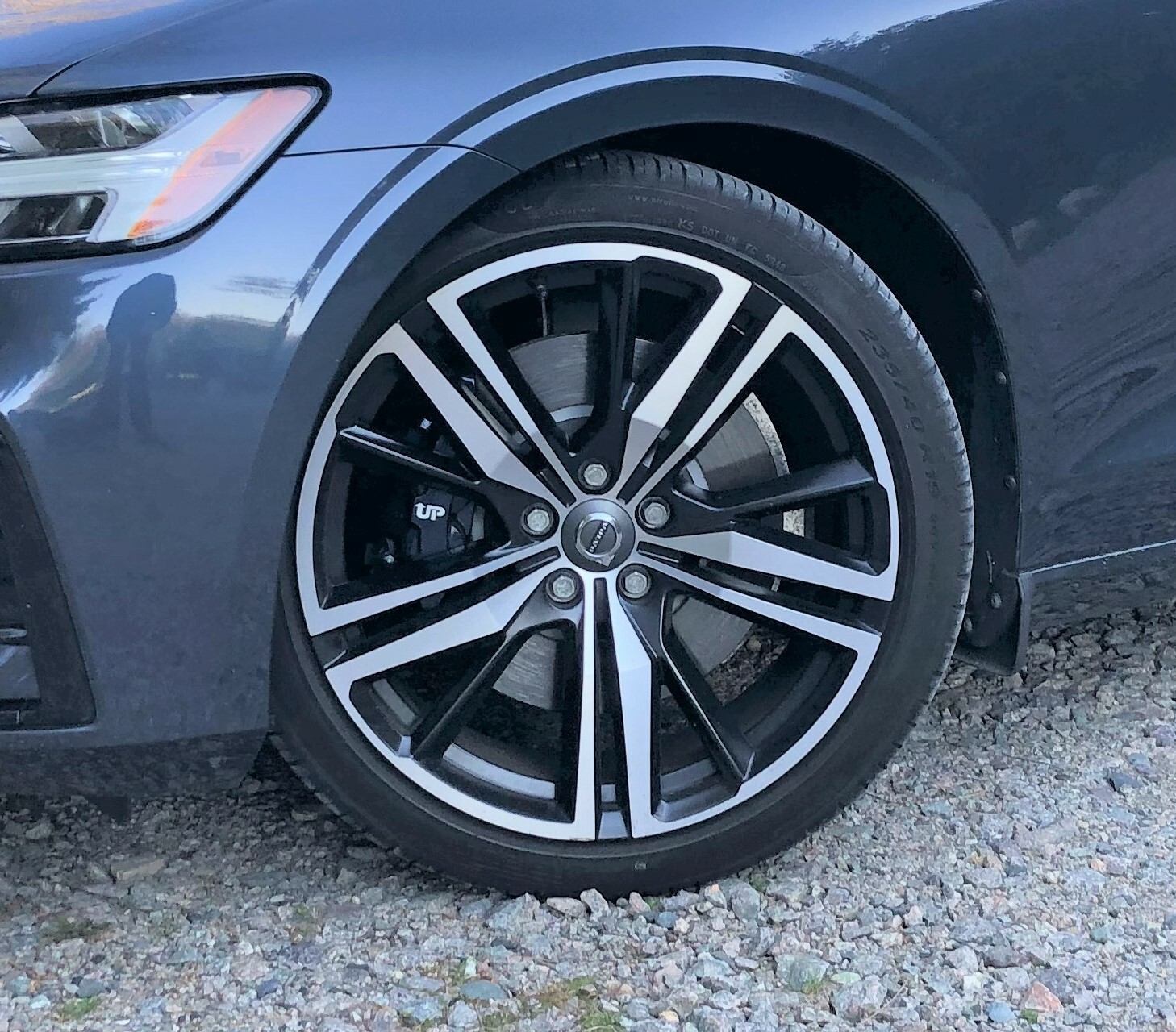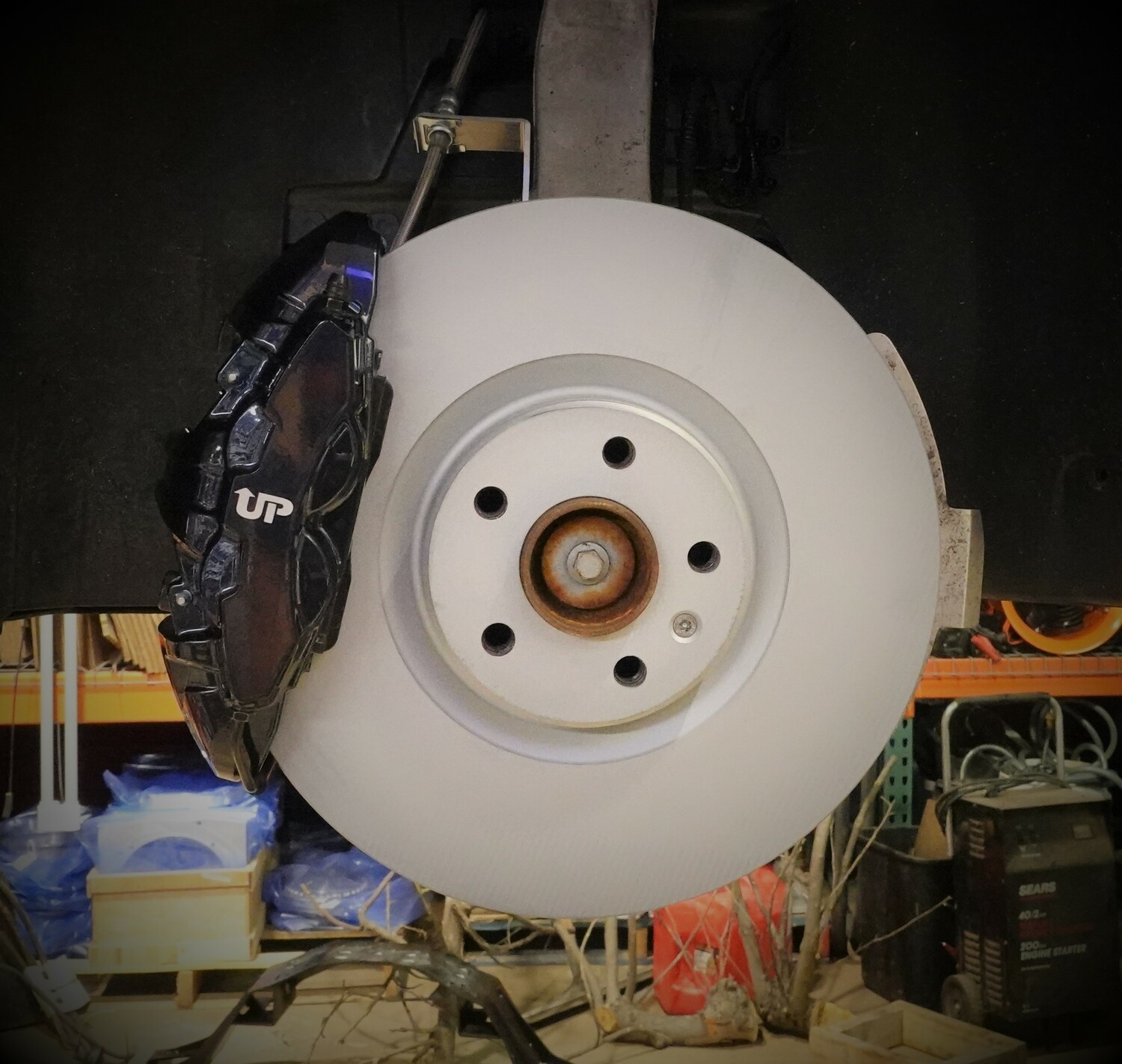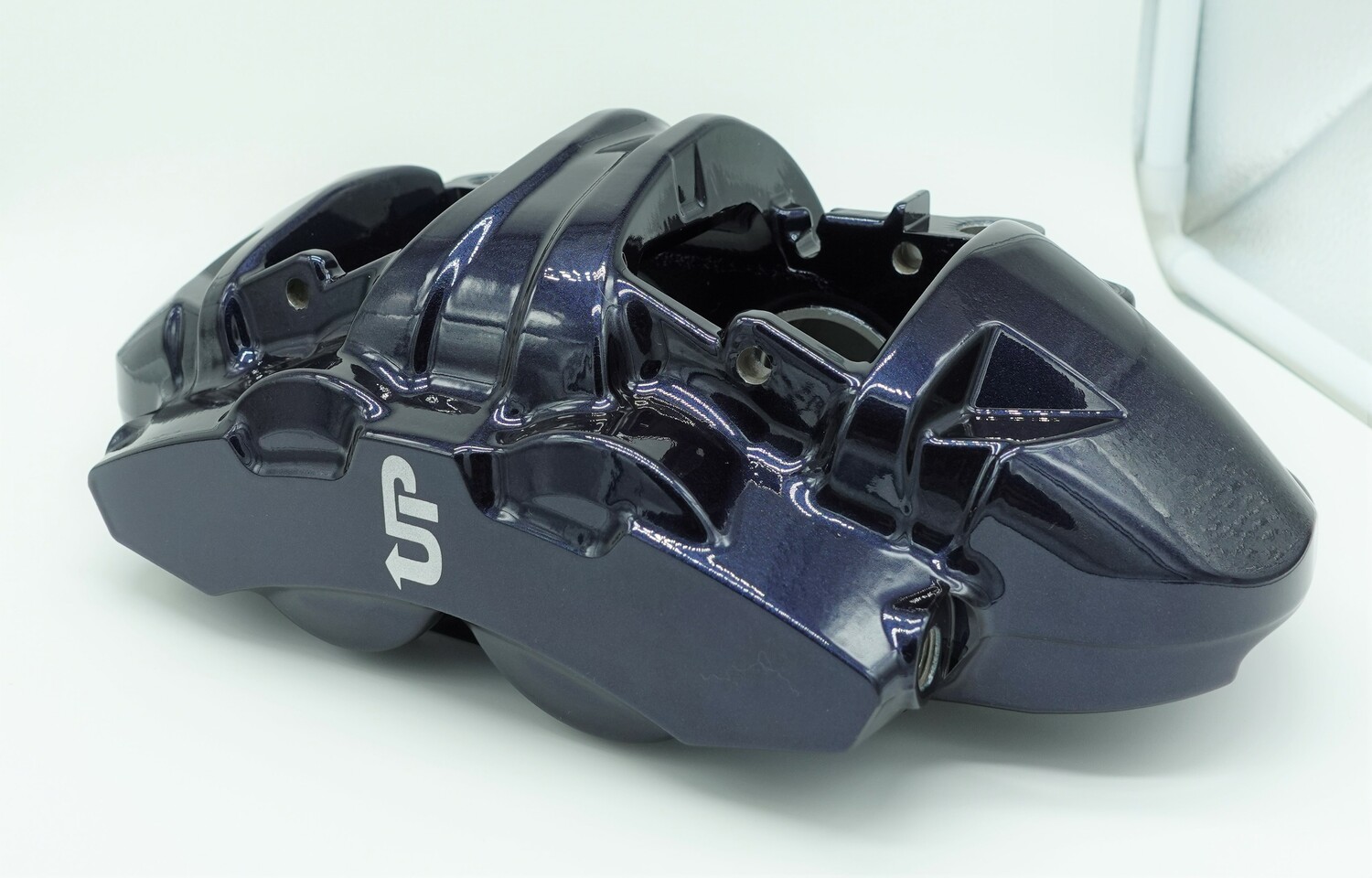 "UP at midnight blue" shown above and NEW "Fired UP red" color below.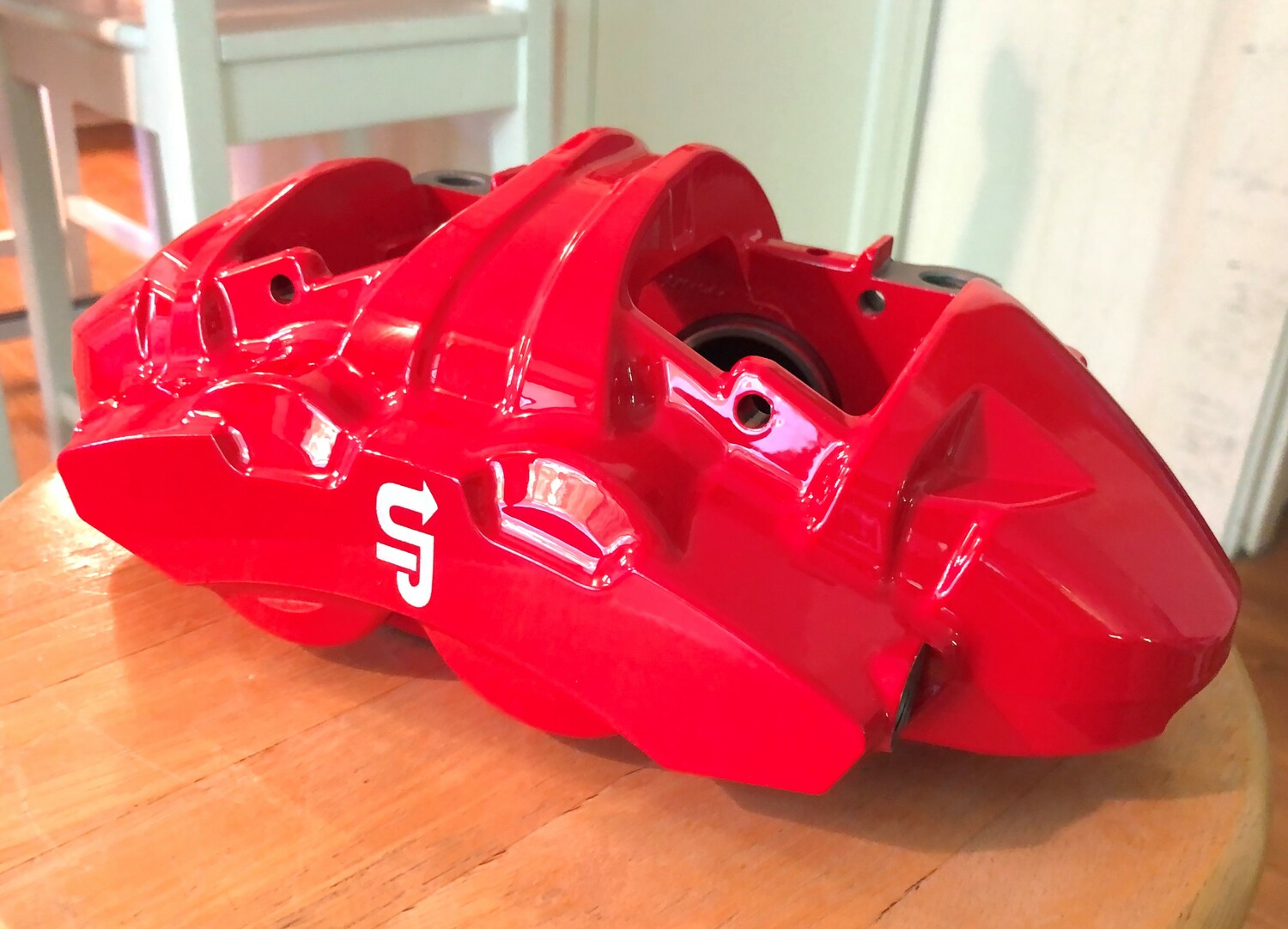 Do you like driving your Volvo? You'll

LOVE

driving it with this brake upgrade. For those who value driving enjoyment, and authentic high quality products. Enjoy the feel and safety of carefully tuned sports car brakes on your Volvo, with the low service costs and durability of an OEM system. The SPORT brake kit is a unique brake upgrade that outshines "Big Brake Kits" more than double the price.
Installation Instructions
The SPORT Brake Kit is $1599
The brake kit is designed for

all SPA models and currently verified to fit the Volvo S/V60('19+), S/V90('17+)

. If you have an XC90 or XC60 and want to help us verify fitment, contact us with the button below. Kit is shipping to the US. International customers contact us and we can work with you directly for payment and shipping.
Learn more about why the SPORT Brake kit is the best upgrade for your Volvo
How does the SPORT brake kit compare to others?
| | | | | | |
| --- | --- | --- | --- | --- | --- |
| | UP SPORT Brake kit (345mm) | *NEW* UP SPORT 19 Brake kit (366mm) | Typical 380mm Volvo Big Brake Kit | OEM Polestar 371mm brake retrofit | Why it matters |
| Brake Torque change (front) | -7% (0% T5) | -1.7% | +10% (+21% T5) | +11% (+21% T5) | Less than 10% torque change and slight reduction preserves ABS system functions, improves modulation, and reduces stopping distance on the Volvo SPA platform. The Polestar brakes use a different system and software that doesn't adapt to other models |
| Rotor Heat Capacity vs. OEM 13.6" rotor | Same (+28% T5) | +12% | -23% | -3% | Road car brake performance and safety is heavily dependant on heat capacity. Lightweight rotor designs borrowed from racing lack the mass needed for road performance |
| Rotor swept area | 5512 cm³ | 5921 cm³ (+7%) | 5095 cm³ (-8%) | 5623 cm³ (+2%) | Swept area is critical to heat dissipation from the brake pad/rotor interface to avoid fade |
| Rotor Temp (F) after single 100-0 panic stop (estimated, S60 T6) | 461° | 398° | 556° | 488° | Loss of heat capacity compromises big brake kits touting lightweight rotor designs borrowed from racing. Both the standard and Polestar OEM rotors outperform "big" brake kits |
| Pedal travel vs OEM (estimated) | -8% | -8% | -4% | -1% | OEM Volvo brakes are tuned for non-enthusiast drivers, with a light touch and plenty of travel. Sportier feel is acheived by reducing leverage and travel of the pedal. The SPORT brake kit does this better than any other. |
| Designed for road use? | Yes | Yes | Off-road only | Not supported | The "off-road only" disclaimer is needed when a brake kit is not properly designed for safe street use. We stand behind our brake kit 100%. Polestar brakes would be safe for street use if Volvo offered ABS software and other support for the parts upgrade, unfortunately they do not. |
| Service parts cost - pad and rotor replacement (exc. labor) | $225 | $250 | $725 | $1300 | Service cost should also be considered when installing a brake kit. 2-piece rotors greatly increase parts costs. Why pay the price forever if there is no performance benefit? |
| Minimum wheel size | 18" | 19" | 19" | 19" | More compact brake allows use of smaller wheel sizes, potentially saving more weight than the brake kit itself. Smaller sizes are convenient for those who run winter tires. |
| Cost | $1599 | $1699 | $3400 | $4000 | Superior street performance is acheived with engineering development time. Throwing more proprietary parts in a box does not achieve a satisfactory result. |
"Luck runs out, but safety is good for life"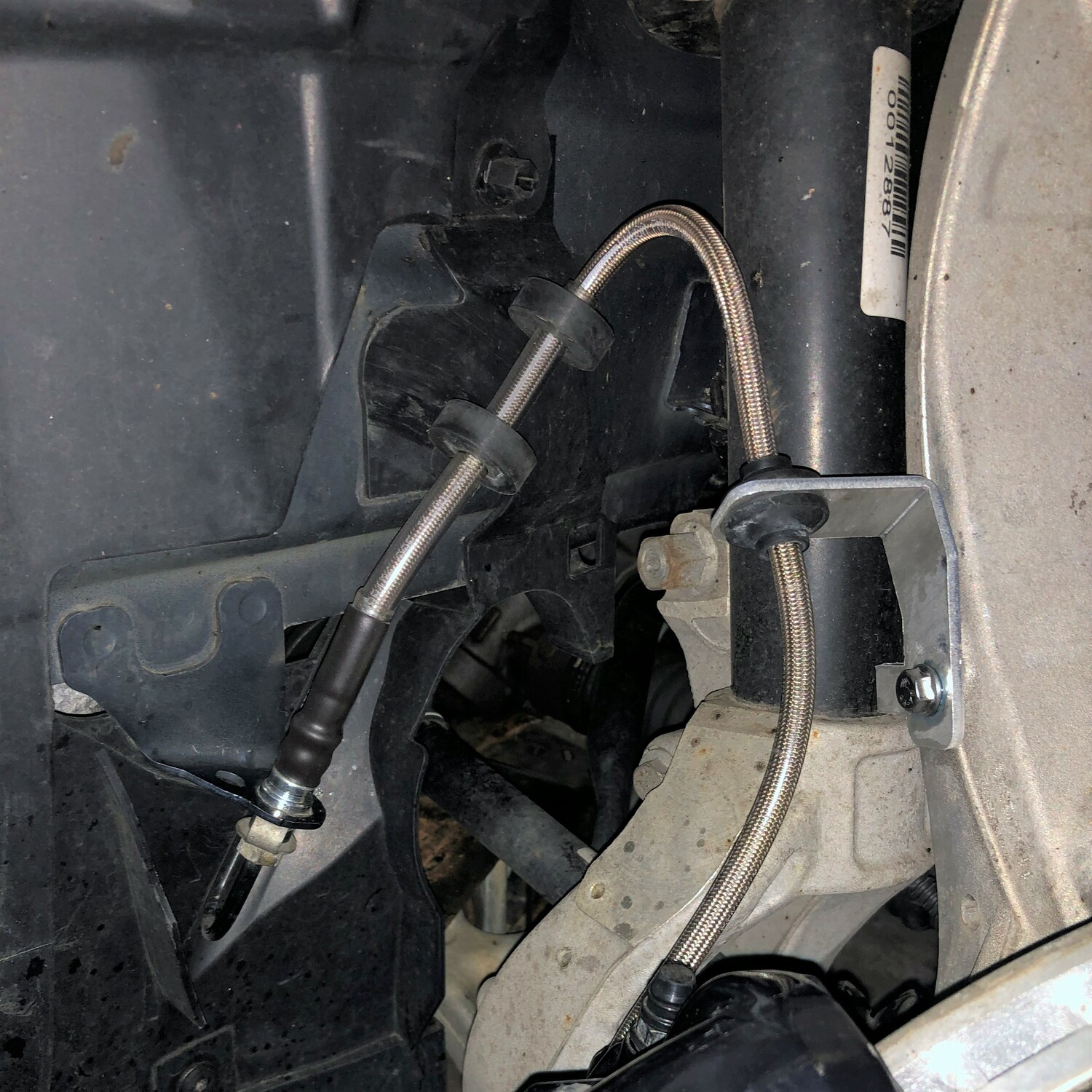 Exclusive Safety Stainless hose in the SPORT brake kit:
Splined brake hose chassis connection, and custom tabbed bracket that fully captures the hose. The brake hose will not loosen with use and cause catastrophic brake failure. Our design matches the OEM safety features. Volvo thinks this is important, and we do too. Other brake kits lack these safety features, requiring periodic inspection and re-tightening of loose connections.
The
Safety Stainless
hose also incorprates the rubber spacing function of the OEM brake hose. On the Volvo SPA chassis, the brake hose will contact the chassis during steering and suspension articulation. Over time this rubbing will cause hose failure. Proper isolation prevents this and the catastrophic fluid loss and resulting brake failure.
"Quality is never an accident"
Any brake kit looks good when you buy it,
how will it look and perform down the road?
Exclusive to the SPORT brake kit are
nickel plated, hardened steel brackets
. Steel has no practical faigue life, unlike aluminum alloy brackets used in other kits. Steel requires no thread inserts. Common aluminum alloys used in big brake brackets are prone to corrosion and stress cracking. Anodizing the alloy helps but also weakens it and hides potential problems from visual inspection. If you use your Volvo year round, or simply want to go anywhere without fear of brake failure, steel is the way to go. The
steel bracket will last the life of your Volvo.
Our caliper finish is top of the line. Inside the wheel is a harsh environment. Calipers are painted with an
industrial polyurethane
with excellent durability and chemical resistance to soaps, wheel cleaners and corrosive road spray. Color and logo are painted, then the caliper is clear coated. No stamps, decals, or stickers to scratch, peel and discolor.
The SPORT brake kit includes our exclusive
SPORT heat shield
. Cooling air flow to the rotor is improved, while the ball joint, ABS sensor and tie-rod end are protected from brake rotor heat.
Other brake kits require removal of the OEM splash shield and provide no replacement
to protect critical parts.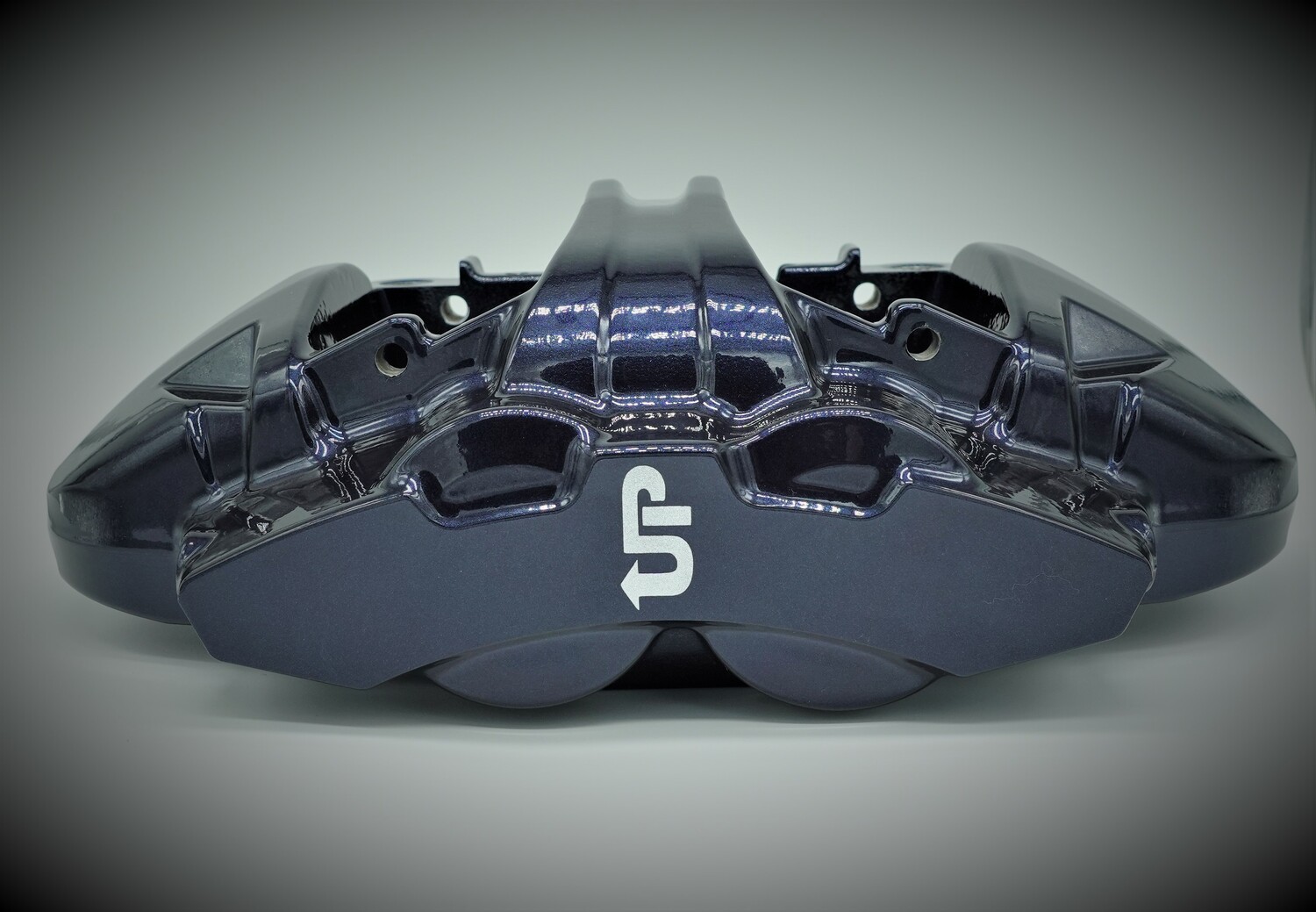 "Looks can be manufactured, performance must be engineered"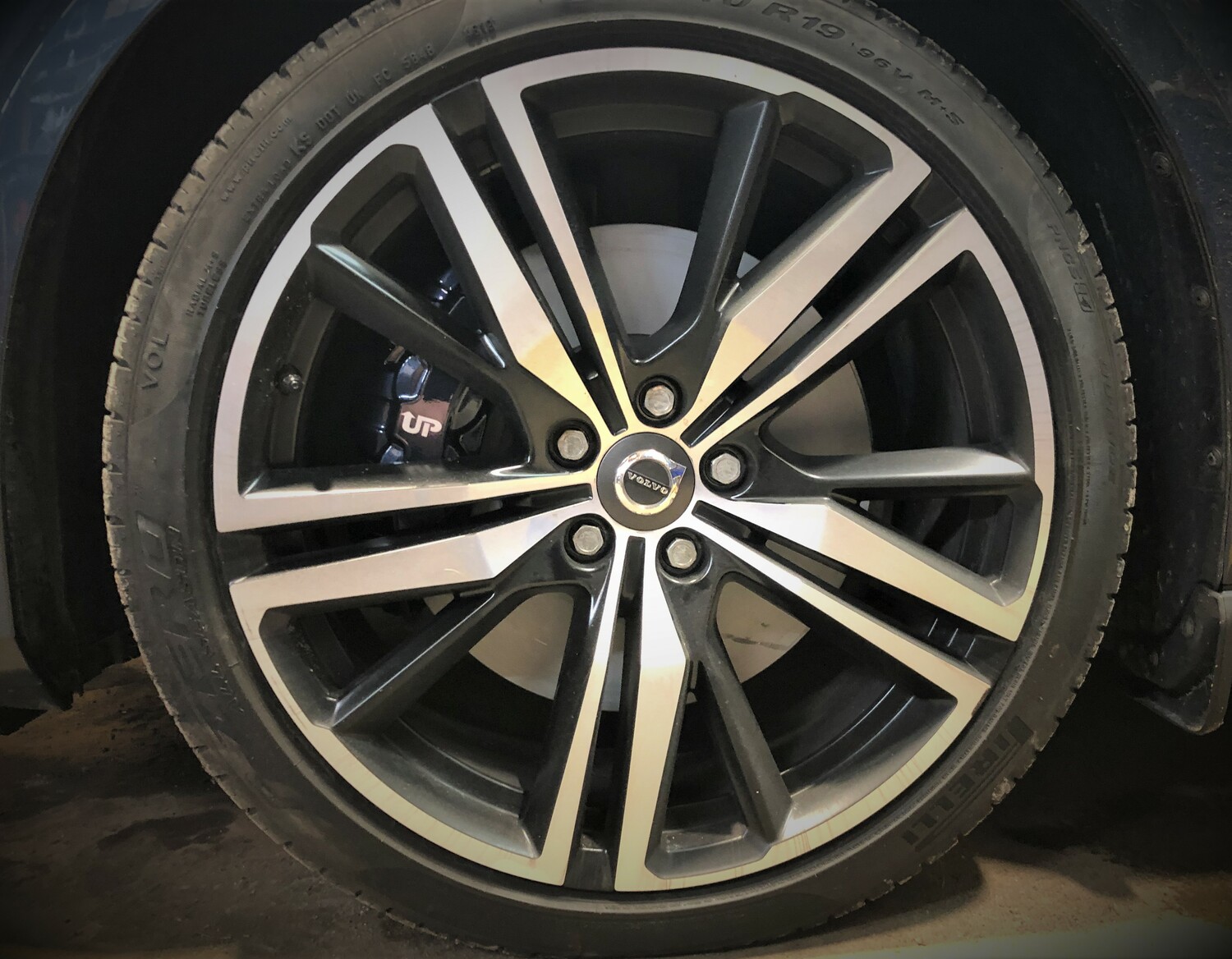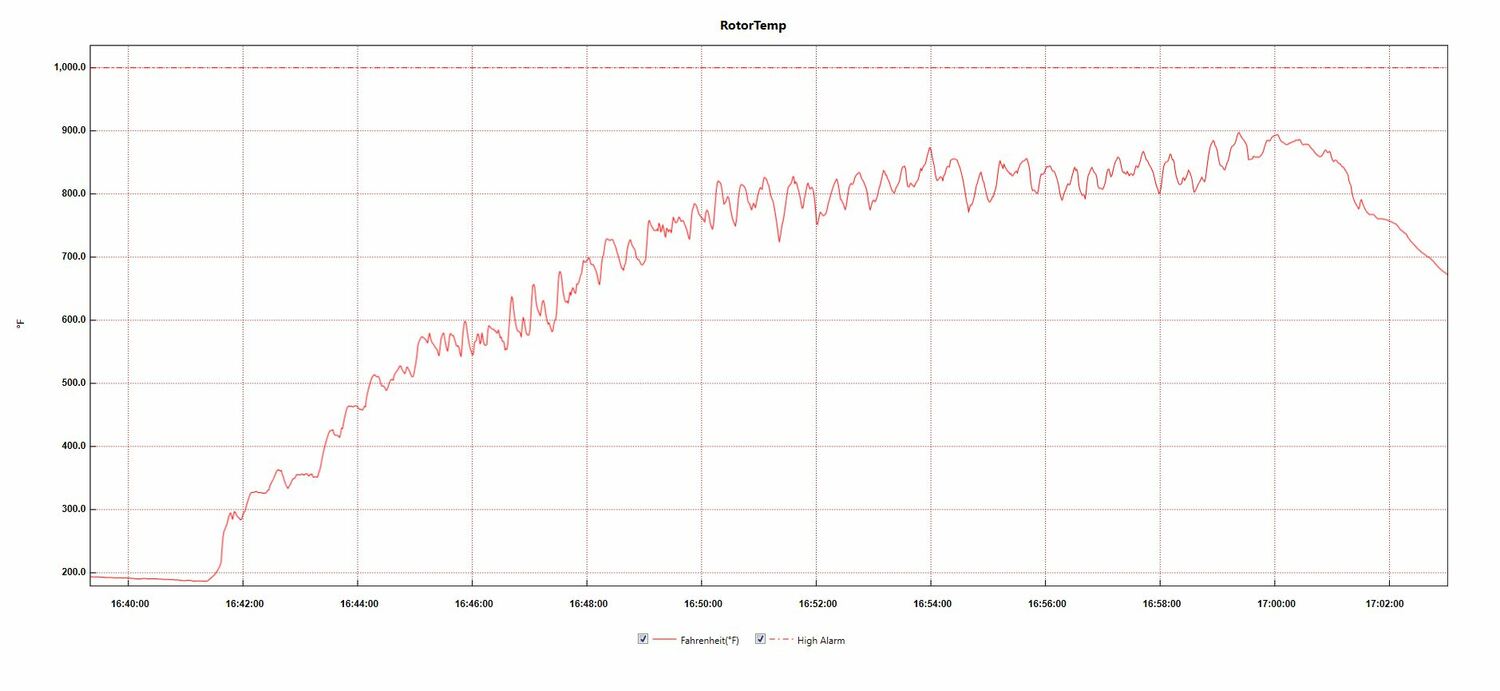 You are probably thinking: How can a 4-piston caliper on an OEM rotor possibly outperform a
6-piston
big brake kit?
The answer is two-fold.
Firstly, we understand how you use your Volvo, and second...engineering.
These two go together. Manufacturing a brake kit is as easy as an afternoon spent measuring and machining a bracket. It's no wonder why the parts are all wrong. We know that because
we have tested the brake system extensively on the SPA chassis
. And lived with it every day. Volvo brakes are actually quite stout objectively, but lacking in brake feel and tuning. And those big grey iron calipers aren't much for looks!
Given the lack of good options available, we developed the SPORT brake kit to use the 13.6" (345mm) size Volvo rotor. 2-piece rotors do look great...and the technology is superior, but the
existing options are far too modest for the 2 ton plus Volvo SPA models.
We pair the Volvo rotor with an "UP-cycled" production 4-piston, monoblock, integrally braced caliper body, remanufactured in house to our high standards. The 4-piston design is inherently stiffer than 6-piston design calipers. We acheive more swept area on the rotor from the taller pad, taller than any other brake kit.
4-pistons allow close matching to the torque output of the OEM brakes
, critical to maintaining the function of the partially automated brake systems: ABS, stability, torque vectoring, dynamic force distribution and more all depend on torque output that matches how the car came from the factory. We bias slightly toward the rear to optimize stopping performance for the sporty driver. Others bias moderately toward the front, not becuase it's good engineering, they simply don't have a 6-piston caliper that matches this platform. Even the OEM Polestar brakes (at $4,000 for the parts!) aren't a match for your Volvo, with too much torque and lack of pedal feel.
Cheap and Easy Maintenance
"We live in a world of disposable things"
No proprietary service parts:
Pads, bolts, seals, pistons and rotors are all production car parts available at any auto parts store, or to any mechanic.
You won't need expensive replacement parts to enioy your brakes as long as you own your Volvo
, however long that is. Brake jobs and full caliper rebuilds can be accomplished by any competent mechanic with easily available parts anywhere. You'll never be caught out waiting on proprietary service parts, and those parts will be reasonably priced. A service card is included with the kit detailing replacement parts and service information for
you, a mechanic or even a Volvo dealer to confidently service the brakes.